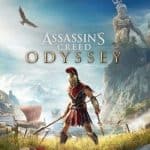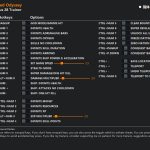 ---
Assassin's Creed: Odyssey Trainer +28
OPTIONS
PageUp – God Mode/Ignore Hit
Num 1 – Infinite Health
Num 2 – Infinite Adrenaline Bars
Num 3 – Infinite Oxygen
Num 4 – Skills No Cooldown
Num 5 – Infinite Skill Duration
Num 6 – Infinite Arrows
Num 7 – Infinite Ship Power & Acceleration
Num 8 – Set Game Speed
Num 9 – Stealth Mode
Num 0 – Super Damage/One Hit Kill
Alt+Num 0 – Damage Multiplier
Num . – Ship: Infinite Health
Num + – Ship: Attacks No Cooldown
Num – – Ship: One Hit Kill
Ctrl+Num 1 – Infinite Money
Ctrl+Num 2 – Infinite Resources
Ctrl+Num 3 – Infinite XP
Alt+Num 3 – Exp Multiplier
Ctrl+Num 4 – Infinite Skill Points
Ctrl+Num 5 – Clear Bounties
Ctrl+Num 6 – Super Revelation Range
Ctrl+Num 7 – Unlock All Engravings
Ctrl+Num 8 – Freeze Daytime
Ctrl+Num 9 – Zero Nation Power
Ctrl+PageUp – Conquest Battle: Drop 50% Athenian HP
Ctrl+PageDown – Conquest Battle: Drop 50% Spartan HP
Ctrl+ . – Save Location
Ctrl+ + – Teleport
Ctrl+ – – Undo Teleportation
Ctrl+Num 0 – Teleport To Waypoint Location
NOTES
"Infinite Adrenaline Bars" takes effect when you gain adrenaline.
"Infinite Money" and "Infinite Resources" take effects when you open the item menu.
"Infinite XP" takes effect when you gain XP.
"Ship: Infinite Health" takes effect when your ship receive damage.
"Infinite Arrows" requires you have more than 1 arrow for it to work.
"Stealth Mode": When activated, most enemies will ignore you, but if you attack them, you'll still be detected.