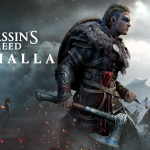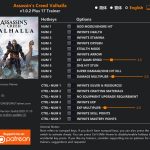 ---
Assassin's Creed: Valhalla Trainer +17
OPTIONS
Num 1 – God Mode/Ignore Hit
Num 2 – Infinite Health
Num 3 – Infinite Stamina
Num 4 – Infinite Oxygen
Num 5 – Stealth Mode
Num 6 – Infinite Arrow
Num 7 – Set Game Speed
Num 8 – One Hit Stun
Num 9 – Super Damage/One Hit Kill
Num 0 – Damage Multiplier
Ctrl+Num 1 – Infinite Silver & Resources
Ctrl+Num 2 – Infinite Crafting Materials
Ctrl+Num 3 – No Equipment Upgrade Requirement
Ctrl+Num 4 – Infinite Exp
Ctrl+Num 5 – Exp Multiplier
Ctrl+Num 6 – Infinite Skill Points
Ctrl+Num 7 – Infinite Mastery Points
NOTES
"Stealth Mode": When activated, most enemies will ignore you, but if you attack them, you'll be detected. Note this option may not work during certain story missions.
"Infinite Arrow": When activated, arrow quantity will not decrease, note this option requires more than one arrow for it to work.
"Infinite Silver & Resources" and "Infinite Crafting Materials" take effects when opening the item bag. Note these options only affect the resources/materials you already owned.
"Infinite Exp" takes effect when you gain exp.
"No Equipment Upgrade Requirement": Activated before opening item menu. Some equipments may say not enough materials, but you can still upgrade them. Note if you want to disable this option, you'll need to restart the game for the upgrade requirements to restore.