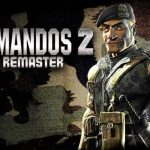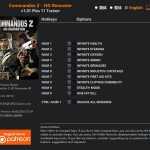 ---
Commandos 2 – HD Remaster Trainer +11
OPTIONS
Num 1 – Infinite Health
Num 2 – Infinite Stamina
Num 3 – Infinite Oxygen
Num 4 – Infinite Ammo
Num 5 – Infinite Grenades
Num 6 – Infinite Molotov Cocktails
Num 7 – Infinite First Aid Kits
Num 8 – Infinite Clothes Durability
Num 9 – Stealth Mode
Num 0 – One Hit Kill
Ctrl+Num 1 – Unlock All Missions
NOTES
"Infinite Health" cannot prevent death from explosion, but you can use "Infinite First Aid Kits" to revive soldiers.
"Infinite Ammo" takes effect when ammo decrease.
"Infinite Grenades", "Infinite Molotov Cocktails", "Infinite First Aid Kits" take effects when you use the specific items.
"Unlock All Missions" temporary unlocks all missions, if you start a mission, that mission will be permanently unlocked.