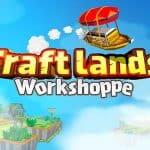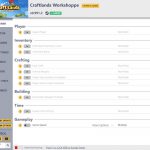 ---
Craftlands Workshoppe Trainer +23
Activating this trainer
If not state otherwise below, press F1 at main menu.
Listen for 'Trainer Activated'.
Press desired hotkey. All hotkeys can be changed on the trainer.
Promo Options
Multiply: Game Speed
Trainer Options
# Player
NumPad1: Super Player
# Inventory
NumPad2: Unlimited Inventory Count
NumPad3: Unlimited Items
# Crafting
NumPad4: Easy Craft
NumPad5: Unlock Recipes
NumPad6: Player Has Cauldron Container
NumPad7: Player Has Furnace Container
# Building
NumPad8: Permit Not Needed To Build
# Time
NumPad9: Freeze Time Of Day
# Gameplay
Multiply: Game Speed
Editor Options
# Currency
Money
Freight Tokens
Unique Tokens
# Player Stats
Exhaustion
Interaction Radius
Energy
Max Energy
Player Level
Player XP
Movement Speed
# Inventory
Amount of last moved item
# Time
Day
Time
Notes
Probably best to follow the tutorial until it lets you take over completely as certain scripts may break if you get ahead of the tutorial.
Some things may not update in the game visually until you spend, earn XP, or other stuff.
You can experiment, and the game WONT save until you SLEEP in the bed. So you can try things but not SAVE until you are ready or unless things are moving along as planned.
Game Speed:
Toggle on to affect game speed.