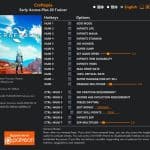 ---
Craftopia Trainer +20
OPTIONS
Num 1 – God Mode
Num 2 – Infinite Life
Num 3 – Infinite Mana
Num 4 – Infinite Stamina
Num 5 – No Hunger
Num 6 – Super Jump
Num 7 – Set Game Speed
Num 8 – Infinite Item Durability
Num 9 – Infinite Items
Num 0 – Max Drop Rate
Num . – 100% Critical Rate
Num + – Super Damage/One Hit Kill
Num – – Damage Multiplier
Ctrl+Num 1 – No Crafting Requirement
Ctrl+Num 2 – Ignore Age Evolution Requirement
Ctrl+Num 3 – Freeze Daytime
Ctrl+Num 4 – Edit Money
Ctrl+Num 5 – Edit Skill Points
Ctrl+Num 6 – Infinite Exp
Ctrl+Num 7 – Exp Multiplier
NOTES
"Infinite Items" takes effect when opening inventory or when item quantity updates.
"Ignore Age Evolution Requirement": When activated, you can perform age evolution even if you don't have enough materials, but if you do have materials, they will be consumed.
"Edit Money": Note the money display value is not updated in real time, you may need to spend or gain some money to see the value change.
"Freeze Daytime": When activated, time will still pass, but the day night cycle will be paused.