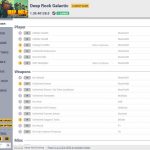 ---
Deep Rock Galactic Trainer +23
Activating this trainer
If not state otherwise below, press F1 at main menu.
Listen for 'Trainer Activated'.
Press desired hotkey. All hotkeys can be changed on the trainer.
Promo Options
F3: Super Speed
Trainer Options
# Player
NumPad1: Infinite Health
NumPad2: Infinite Shield
NumPad3: Change Credits
NumPad4: Unlimited Resources
NumPad5: One Hit Kills
NumPad6: EXP Multiplier
# Weapons
NumPad7: No Reload
NumPad8: Unlimited Ammo
NumPad9: Unlimited Flares / No Flare Cooldown
Multiply: Unlimited Grenades
Add: No Heat
Separator: Unlimited Drill Ammo
Subtract: Unlimited Turrent Ammo
Decimal: Unlimited Support Tools
Divide: No Recoil
F1: No Cryo Cannon Pressure
# Misc
F2: Free Crafting/Purchase
F3: Super Speed
F4: No Material Gear Upgrades Costs
F5: Free Perk Upgrades
F6: Unlimited Materials
F7: No Perk Cooldown
Editor Options
# Player:
Credits
Notes
All values ingame won't update immediately after you activate a cheat. You must let the game changes the value itself before you see the cheat takes effect.