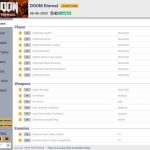 ---
DOOM Eternal Trainer +30
Activating this trainer
If not state otherwise below, press F1 at main menu.
Listen for 'Trainer Activated'.
Press desired hotkey. All hotkeys can be changed on the trainer.
Promo Options
F6: Game Speed
Trainer Options
# Player
NumPad1: Unlimited Health
NumPad2: Unlimited Armor
NumPad3: Unlimited Double Jumps
NumPad4: Unlimited Dash
NumPad5: Infinite Rune Power Gauge
NumPad6: Unlimited Blood Punches
NumPad7: Unlimited Rad Suit Protection
NumPad8: Unlimited Lives
# Weapons
NumPad9: Super Damage
Multiply: No Reload
Add: No Recoil
Subtract: Fast Grenade Cooldown
Decimal: Fast Flame Belch Cooldown
Divide: Unlimited Crucible Pips
# Enemies
F1: Enemies Don't Melee Attack
F2: Enemies Ignore Player Completely
# Gameplay
F3: Unlock All Missions
F4: Unlock Master Levels
F5: Unlock Classic DOOM on PC
F6: Unlock Classic DOOM II on PC
F7: Game Speed
Editor Options
# Player
Max HP
Current HP
Max Armor
Current Armor
# Currency
Weapon Points
Mastery Tokens
Praetor Suit Points
Sentinel Batteries
Empyrean Keys
Notes
Game Speed:
Toggle on to affect game speed.