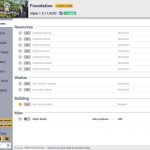 ---
Foundation Trainer +6
Activating this trainer:
If not state otherwise below, press F1 at main menu.
Listen for 'Trainer Activated'.
Press desired hotkey. All hotkeys can be changed on the trainer.
Promo Options:
Add: Super Speed
Trainer Options:
# Resources
NumPad1: Unlimited Money
NumPad2: Unlimited Wood
NumPad3: Unlimited Tools
NumPad4: Unlimited Food
NumPad5: Unlimited Water
NumPad6: Unlimited Stones
NumPad7: Unlimited Cloth
# Worker
NumPad8: Fast Worker Leveling
NumPad9: No Worker Needs
# Building
Multiply: Fast Construction
# Misc
Add: Super Speed
Editor Options:
# Resources:
Gold
Wood
Tool
Food
Water
Stone
Cloth
Notes:
Editing Resources:
The resource you wish to edit must have changed at least once ingame before you can edit the value. Changes will NOT be visible ingame immediately. The value must change by the game itself again before you see your new quantity.
Unlimited Resources:
While active the resource type will be unlimited. The resource type value must have changed before it takes effect.
Fast Construction:
While active start a construction and open the info window showing the build progress and the construction will be finished in no time.