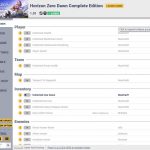 ---
Horizon: Zero Dawn – Complete Edition Trainer +33
Activating this trainer
If not state otherwise below, press F1 at main menu.
Listen for 'Trainer Activated'.
Press desired hotkey. All hotkeys can be changed on the trainer.
Promo Options
NumPad7: Unlimited Use Items
Trainer Options
# Player
NumPad1: Unlimited Health
NumPad2: Unlimited Medicinal Pouch
NumPad3: Unlimited Underwater Breathing
NumPad4: Super Speed
# Team
NumPad5: Unlimited Party Health
# Map
NumPad6: Teleport To Waypoint
# Inventory
NumPad7: Unlimited Use Items
NumPad8: Unlimited Arrows
NumPad9: Unlimited Heavy Weapon Ammo
Multiply: Easy Gather Items
# Enemies
Add: Ghost Hunter Mode
Subtract: Silent Hunter
Decimal: Invisible Hunter
Divide: Weak Enemies
# Weapons
F1: Full Weapon Charge
F2: Unlimited Concentration
# Crafting
F3: Easy Craft Items
# Buffs
F4: Unlimited Buffs
# Shop and Trade
F5: Sell Item Gives Metal Shards
F6: Easy Buy
# Environment
F7: Always Daytime
# Missions
F8: Freeze Hunting Mission Timer
Editor Options
# Player Progression
Player Experience
Player Level
Skill Points Remaining
# Environment
Time of Day Hour
Number of Days Playing
# Mission
Hunting Mission Timer
Hunting Mission Timer Max
# Inventory
Max Weapons Capacity
Max Outfits Capacity
Max Modifications Capacity
Max Resources Capacity
Notes
Unlimited Use Items:
Toggle on and most items when used it will not decrease. Not this may affect some ammo items. Some ammo this will multiply the amount fired as well.