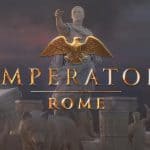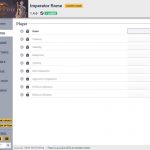 ---
Imperator: Rome Trainer +11
Activating this trainer
If not state otherwise below, press F1 at main menu.
Listen for 'Trainer Activated'.
Press desired hotkey. All hotkeys can be changed on the trainer.
Promo Options
Player: Score
Trainer Options
# Console/Saves
NumPad1: Disable Ironman / Enable Console
# Gameplay
NumPad2: Lift Fog Of War
Editor Options
# Player:
Score
Treasury
Stability
Manpower
Tyranny
War Exhaustion
Aggressive Expansion
Political Influence
Military Influence
Notes
Since the Pompey Patch (1.1), the in game Console has been disabled by default. To enable it, launch the game using -debug_mode launch command. Also, for STEAM, you may have to launch the game from STEAM for this mode to actually work, not launch the game from the Trainer.
Trainer does NOT change AI values. If you press the LOCK icon, THEN you have the trainer constantly writing that value, even when you press turns, which COULD theoritically THEN write to AI nations.
Probably best NOT to use the freeze icons and then press END TURN. Just edit the values, and the values change ONLY for your nation.
In fact, freeze the game or pause while adding options is even smarter!
Score, Stability, and Treasury may have larger looking numbers. This is normal. Just edit the value larger or smaller to make changes in the game.