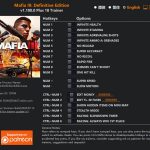 ---
Mafia III: Definitive Edition Trainer +18
OPTIONS
Num 1 – Infinite Health
Num 2 – Infinite Stamina
Num 3 – Infinite Adrenaline Shots
Num 4 – Infinite Ammo & Grenades
Num 5 – No Reload
Num 6 – Super Accuracy
Num 7 – No Recoil
Num 8 – Rapid Fire
Num 9 – Enemies Can't Shoot
Num 0 – One Hit Kill
Num + – Super Speed
Num – – Slow Motion
Ctrl+Num 1 – Edit Money
Ctrl+Num 2 – Edit TL-49 Fuses
Ctrl+Num 3 – Show Hidden Items On Mini Map
Ctrl+Num 4 – Stealth Mode
Ctrl+Num 5 – Racing: Slowdown Timer
Ctrl+Num 6 – Racing: Always Win 1st Place
NOTES
"Infinite Adrenaline Shots" takes effect when you use adrenaline shots.
"Edit Money", "Edit TL-49 Fuses": Note the display values in the bottom left corner are not updated in real time. You may need to gain/spend some money/fuses in order to see the values change. You can also check the updated display values in map menu.
"Show Hidden Items On Mini Map": When activated, most hidden items will be displayed on mini map.
"Show Hidden Items On Mini Map": Note when using this option during missions, you may not be able to trigger some events. You can disable this option and load the last checkpoint to fix the issue.