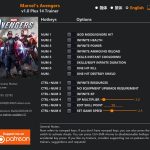 Marvel's Avengers Trainer +14
---
OPTIONS
Num 1 – God Mode/Ignore Hit
Num 2 – Infinite Health
Num 3 – Infinite Power
Num 4 – Infinite Ammo/No Reload
Num 5 – Skills Instant Cooldown
Num 6 – Skills/BUFF Infinite Duration
Num 0 – One Hit Kill
Num . – One Hit Destroy Shield
Ctrl+Num 1 – Infinite Resources
Ctrl+Num 2 – No Equipment Upgrade Requirement
Ctrl+Num 3 – Infinite XP
Ctrl+Num 4 – XP Multiplier
Ctrl+Num 5 – Edit Skill Point
Ctrl+Num 6 – Set Game Speed
NOTES
"Infinite Health": Note the game will show health loss when getting hit, but your health is still at max.
"Infinite Resources" only works for resources you already own.
"Infinite XP" takes effect when you gain XP.
"No Equipment Upgrade Requirement": If you want to disable this option after it took effect, you'll need to restart the game to restore the requirements.