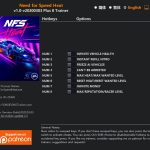 Need for Speed Heat Trainer +8
---
OPTIONS
Num 1 – Infinite Vehicle Health
Num 2 – Instant Refill Nitro
Num 3 – Freeze AI Vehicles
Num 4 – Can't Be Arrested
Num 5 – Max Heat/Max Wanted Level
Num 6 – Reset Heat/Reset Wanted Level
Num 7 – Infinite Money *(Read Notes)
Num 8 – Max Reputation/Racer Level
NOTES
"Infinite Vehicle Health" will keep player's vehicle health bar full, but will not prevent cosmetic damage.
"Freeze AI Vehicles" works on vehicles near player, if the AI vehicles are too far away from player, it will not work on them.
"Max Heat/Max Wanted Level" and "Reset Heat/Reset Wanted Level" take effects when heat increases.
"Max Reputation/Racer Level" takes effect when reputation increases. Note: you need to enter garage to level up.
"Infinite Money" takes effect when money changes. Note this option only works in offline mode. You must set Origin to offline mode for it to work.