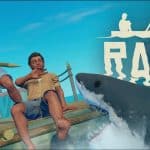 ---
Raft Trainer +12
Activating this trainer:
If not state otherwise below, press F1 at main menu.
Listen for 'Trainer Activated'.
Press desired hotkey. All hotkeys can be changed on the trainer.
Promo Options:
Subtract: Super Speed
Trainer Options:
# Player
NumPad1: Infinite Health
NumPad2: No Hunger
NumPad3: No Thirst
NumPad4: Unlimited Oxygen
NumPad5: Easy Craft
NumPad6: Easy Construction
NumPad7: Unlimited Tool Uses
NumPad8: Unlimited Items
# Time
NumPad9: Change Time Of Day
Multiply: Set Time To Day
Add: Set Time To Night
# Misc
Separator: Disable Sharks
Subtract: Super Speed
Editor Options:
# Time:
Time Of Day
Notes:
Easy Craft:
While active you can craft everything without meeting the requirements. First click on the item you want to have, now press left CTRL + C and the item will be added to your inventory.
Unlimited Tool Uses:
Some tools have a meter when you use them that runs out and the tool is lost. While active you can use them forever.
Unlimited Items:
While active your items are unlimited. You can customize the value it sets after trainer activation. By default its 99.
Disable Sharks:
While active shark AI is disabled.