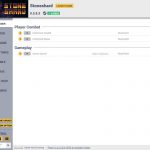 ---
Stoneshard Trainer +19
Activating this trainer
If not state otherwise below, press F1 at main menu.
Listen for 'Trainer Activated'.
Press desired hotkey. All hotkeys can be changed on the trainer.
Promo Options
Player Stats: Perception
Trainer Options
# Player Combat
NumPad1: Unlimited Health
NumPad2: Unlimited Mana
# Gameplay
NumPad3: Game Speed
Editor Options
# Player Stats
AP
SP
XP
Strength
Agility
Perception
Vitality
Willpower
Thirst
Hunger
Head
Torso
Left Hand
Right Hand
Left Leg
Right Leg
# Inventory
Gold
Notes
For EDITOR options, and CHARACTER STATS, open the CHARACTER window, then click the HEART ICON to look at the current stats, and then you can modify them in the editor.
For GOLD, you must have picked up at least ONE gold coin.
Do NOT FREEZE addresses, as the game is constantly changing addresses and this could cause a crash.
The HEALTH option was created and tested in the PROLOGUE. If necessary, you may just need to make a SUPER POWERFUL CHARACTER using the AP option and the VITALITY STAT. Health Option may not work everywhere.
This game is in BETA, and during it's first 3 days of release has already patched 7 times. We won't be adding more or doing any more changes to this trainer, as this game is in flux and likely will be updating a zillion more times while they have the paying public play it to find all their bugs and errors for the next year. At some point if major breaks occur to this trainer due to major game engine changes, we may put this title ON HOLD until it comes out of early access.