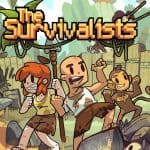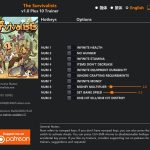 ---
Survivalist Trainer +10
OPTIONS
Num 1 – Infinite Health
Num 2 – No Hunger
Num 3 – Infinite Stamina
Num 4 – Items Don't Decrease
Num 5 – Infinite Equipment Durability
Num 6 – Ignore Crafting Requirements
Num 7 – Infinite Money
Num 8 – Money Multiplier
Num 9 – Set Game Speed
Num 0 – One Hit Kill/One Hit Destroy
NOTES
"Infinite Health" takes effect when you receive damage.
"No Hunger": If you're already starving before using this option, you'll need to eat something to remove the starving effect.
"Items Don't Decrease": Note some tools (e.g. torch) may not work properly when this option is active.
"Ignore Crafting Requirements": When activated, you can craft items even if you don't have enough materials, but if you have materials, they will be consumed.
"Infinite Money" takes effect when you gain money.