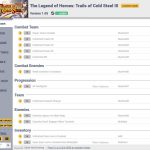 ---
The Legend of Heroes: Trails of Cold Steel III Trainer +23
Activating this trainer
If not state otherwise below, press F1 at main menu.
Listen for 'Trainer Activated'.
Press desired hotkey. All hotkeys can be changed on the trainer.
Promo Options
Decimal: Game Speed
Trainer Options
# Combat Team
NumPad1: Super Team Combat
NumPad2: Unlimited Team HP
NumPad3: Unlimited Team CP
NumPad4: Unlimited Team EP
NumPad5: Unlimited BP
# Combat Enemies
NumPad6: Weak Enemies in Combat
# Progression
NumPad7: XP Multiplier
# Team
NumPad8: Unlimited Assault Charge
# Enemies
NumPad9: Enemies Ignore On Main Map
Multiply: Enemies Don't Engage When Touched
# Inventory
Add: Unlimited Item Use In Combat
Separator: Open Item List In Combat Item Multiplier
Subtract: Toss Item In Inventory Gives More
# Gameplay
Decimal: Game Speed
Editor Options
# Currency:
Mira
Mass
# Resources:
Earth
Water
Fire
Wind
Time
Space
Mirage
Notes
Game Speed:
Toggle to affect game speed.