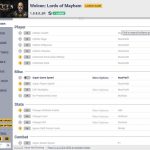 ---
Wolcen: Lords of Mayhem Trainer +29
Activating this trainer:
If not state otherwise below, press F1 at main menu.
Listen for 'Trainer Activated'.
Press desired hotkey. All hotkeys can be changed on the trainer.
Promo Options:
NumPad7: Super Game Speed
Trainer Options:
# Player
NumPad1: Infinite Health
NumPad2: Infinite Rage
NumPad3: Infinite Willpower
NumPad4: Infinite Stamina
NumPad5: Unlimited Primordial Affinity
NumPad6: Unlimited Gold
# Misc
NumPad7: Super Game Speed
NumPad8: Super Player Speed
NumPad9: EXP Multiplier
Multiply: No Productivity Costs
# Stats
Add: Change Attribute Points
Separator: Change Level
Subtract: Change EXP
Decimal: Ignore Skill Points Costs
# Combat
Divide: Super Attack Speed
F1: Super Spell Casting Speed
F2: 100% Crit Chance
# Inventory
F3: Set Selected Item Quantity
Editor Options:
# Player:
Health Regeneration
Force Shield Regeneration
Force Shield Regeneration Delay
Critical Damage
Level
EXP
Attribute Points
Gold / Health Pickup Radius
# Misc:
Gold
Primordial Affinity
# Selected Item:
Quantity
Notes:
This trainer is made for OFFLINE SINGLEPLAYER use only. And you MUST be OFFLINE (the game will tell you that you are on start). If you play online and on their server instead these cheats will NOT work. You will notice that by cheats activate but having no effect.
Attribute Points:
Your attribute points won't get updated until you start to spend a point or get a point in the game.
Misc' Gold:
Misc' Primordial Affinity:
SELL something for gold first. After changing value you may need to spend/get gold/affinity again. Do NOT close the shop window meanwhile.
Quantity:
Mouse HOVER an inventory item first. After done move item from one slot to another to see it has changed.