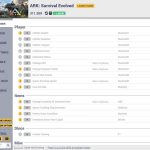 ---
ARK: Survival Evolved Trainer +23
Activating this trainer
If not state otherwise below, press F1 at main menu.
Listen for 'Trainer Activated'.
Press desired hotkey. All hotkeys can be changed on the trainer.
Promo Options
F1: Super Crafting Speed
Trainer Options
# Player
NumPad1: Infinite Health
NumPad2: Infinite Stamina
NumPad3: Infinite Oxygen
NumPad4: Unlimited Food
NumPad5: Unlimited Water
NumPad6: Change EXP
NumPad7: Change Engram Points
NumPad8: Reset Stat Points
NumPad9: Super Running Speed
Multiply: One Hit Kills
# Items
Add: Change Quantity Of Selected Item
Subtract: Ignore Crafting Requirements
Decimal: Perfect Item Condition
Divide: Inventory Items Won't Spoil
# Dinos
F1: Instant Taming
# Misc
F2: Super Crafting Speed
F3: Time Of Day Multiplier
F4: Zero Weight
Editor Options
# Player
EXP
Level
Spent Stat Points
Engram Points
# Selected Item
Quantity
Notes
Trainer is for singleplayer / no battleye only! If you launch this game through Steam it launches the version WITH battleye by default. To avoid this either right click on the game in your steam library and choose the launch the unofficial version or navigate to the game directory and create a desktop shortcut of ShooterGame.exe file and use this to launch the game.
Super Crafting Speed:
While active you craft all items within a very short time.