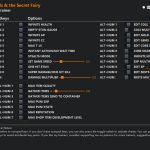 ---
Atelier Ryza 2: Lost Legends & the Secret Fairy Trainer +29
OPTIONS
Num 1 – Infinite Health
Num 2 – Empty Stun Gauge
Num 3 – Infinite AP
Num 4 – Infinite CC
Num 5 – Max T-Lv
Num 6 – Instant Action/No Wait Time
Num 7 – Stealth Mode
Num 8 – Set Game Speed
Num 9 – One Hit Stun
Num 0 – Super Damage/One Hit Kill
Num . – Damage Multiplier
Ctrl+Num 1 – Max Item Quality
Ctrl+Num 2 – Gather Items Multiplier
Ctrl+Num 3 – Gather Items Send To Container
Ctrl+Num 4 – Max Puni Exp
Ctrl+Num 5 – Max Puni Stats
Ctrl+Num 6 – Max Reputation
Ctrl+Num 7 – Max Shop Item Development Level
Alt+Num 1 – Edit Cole
Alt+Num 2 – Cole Multiplier
Alt+Num 3 – Edit Gold Coins
Alt+Num 4 – Edit Gems
Alt+Num 5 – Edit Core Shards
Alt+Num 6 – Core Shards Multiplier
Alt+Num 7 – Infinite Exp
Alt+Num 8 – Exp Multiplier
Alt+Num 9 – Edit SP
Alt+Num 0 – Edit Mists (All Types)
Alt+Num . – Mists Multiplier
NOTES
"Infinite AP": Takes effect when gaining or spending AP.
"Gather Items Send To Container": When you gather items, they'll be sent to the container in the workshop instead of the basket. Items you get from battles will still be put in the basket.
"Max Puni Exp": Takes effect when puni gains exp. Note the level cap of puni is the current level of the main character. Puni can't level up if the main character doesn't level up.
"Max Puni Stats": Takes effect when you feed puni. If you want to disable this option after it took effects, you'll need to restart the game in order to restore the effects.
"Max Reputation": Takes effect when you gain reputation.
"Max Shop Item Development Level": Takes effect when you sell items to shop development.
"Cole Multiplier", "Core Shards Multiplier", "Exp Multiplier", "Mists Multiplier": Only affect the cole/core shards/exp/mists gain from battles.