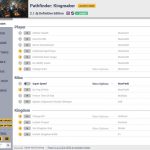 ---
Pathfinder: Kingmaker Trainer +25
Activating this trainer
If not state otherwise below, press F1 at main menu.
Listen for 'Trainer Activated'.
Press desired hotkey. All hotkeys can be changed on the trainer.
Promo Options
NumPad8: Super Speed
Trainer Options
# Player
NumPad1: Infinite Health
NumPad2: One Hit Kills
NumPad3: Never Encumbered
NumPad4: Unlimited Spell Uses
NumPad5: Unlimited Item Usage
NumPad6: No Ability Costs
NumPad7: Change Gold
# Misc
NumPad8: Super Speed
NumPad9: No Fog Of War
Multiply: Freeze Time Of Day
Add: Bypass Alignment Checks Dialogue
# Kingdom
Subtract: Change BP
Decimal: Instant Project
Divide: Set Kingdom Stat
F1: Instant Kingdom Build
Editor Options
# Selected Unit
Level
EXP
Charisma
Dexterity
Constitution
Intelligence
Wisdom
Strength
# Player
Gold
BP
Notes
Selected Unit Editor:
Open the character window of the unit. After making changes you may need to save and load the game.