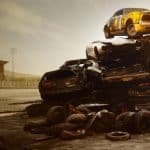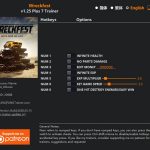 Wreckfest Trainer +7
---
OPTIONS
Num 1 – Infinite Health
Num 2 – No Parts Damage
Num 3 – Edit Money
Num 4 – Infinite Exp
Num 5 – Exp Multiplier
Num 6 – Set Game Speed
Num 0 – One Hit Destroy Enemies/Easy Win
NOTES
"Infinite Health": When you get hit, your health will restore to full.
"Edit Money": After activating this option, go to a different menu to see the value updates.
"One Hit Destroy Enemies/Easy Win": Note enemies attacking enemies will also have one hit destroy effect. Anyone other than player will be destroyed in one hit.